Pneumatic UHV Angle Valve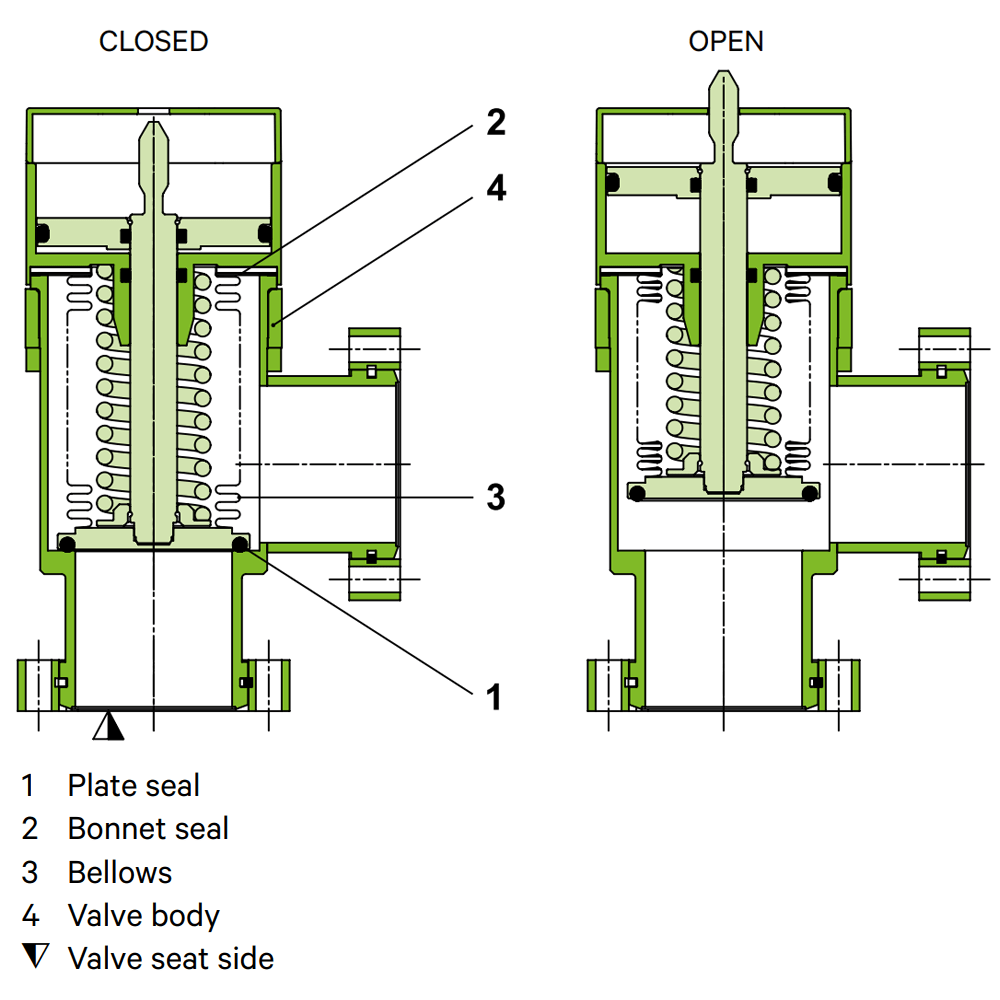 VAT's Series 284 UHV Angle Valve is excellent for pumping and venting of UHV systems when an extremely low outgassing rate is important. Suited for most corrosive gases.
Pneumatic valves come standard with a position indicator and without a solenoid valve. Solenoid valves are available upon request.
Main Features
Sizes: DN 16–63 mm (5/8″–2.5″)
Actuator: pneumatic single acting with closing spring (NC)
Body material: stainless steel
Feedthrough: bellows
Standard flanges: CF-R (rotatable)
Resources
Technical Data
Leak rate:

Valve body: < 5×10-10 mbar ls-1
Valve seat: < 1×10-9 mbar ls-1

Pressure range: 5×10-10 mbar to 5 bar (abs)
Differential pressure on the plate:

In opening direction: ≤ 2.0 bar
In closing direction: ≤ 5.0 bar

Differential pressure at opening: ≤ 1 bar
Cycles until first service: 3 million
Temperature:

Valve body: ≤ 150°C
Pneumatic actuator: ≤ 150°C
Solenoid valve & position indicator: ≤ 80°C

Material:

Valve body:

DN 16, 40: AISI 304 (1.4301)
DN 63: AISI 316L (1.4404, 1.4435)

Plate: AISI 316L (1.4404, 1.4435)
Bellows: AISI 316L (1.4404, 1.4435)

Seal:

Bonnet: metal
Plate: FKM (Viton)

Mounting position: any
Solenoid valve: 24 V DC (others on request)
Position indicator contact rating:

Voltage: 5–50 V AC/DC
Current: 5–100 mA

Valve position indication: visual (mechanical)
*Dimensions are in inches unless otherwise specified
Part ID
Reference Number
Size (mm)
Size (in.)
Flange Ends
3D CAD
Drawing
Unit Price
In Stock
Qty, Add To Cart
Part ID
VAT28424-GE21
Reference Number

VAT28424-GE21

Size (mm)
16
Size (in.)
5/8
Flange Ends
CF133
3D CAD
Login
Drawing
Login
Unit Price
$513.00
Contact
Part ID
VAT28432-GE21
Reference Number

VAT28432-GE21

Size (mm)
40
Size (in.)
1-1/2
Flange Ends
CF275
3D CAD
Login
Drawing
Login
Unit Price
$623.00
Contact
Part ID
VAT28436-GE21
Reference Number

VAT28436-GE21

Size (mm)
63
Size (in.)
2-1/2
Flange Ends
CF450
3D CAD
Login
Drawing
Login
Unit Price
$1,314.00
Contact