As a proud North American distributor of VAT vacuum valves, ANCORP is happy to share we have expanded our offering of VAT valves. ANCORP has added additional VAT series vacuum valves to existing gate and angle valve products while adding new lines such as the butterfly, pendulum, and leak valves.
The expansion of VAT product lines allows ANCORP customers greater access to control and isolation valves for use in high to ultra-high (UHV) to even extreme high vacuum ranges (XHV). The full list of valve additions is featured below.
Pendulum Valve (Series 162)
A pendulum valve's gate rotates to open, close, or adjust flow through the valve opening especially useful in vacuum isolation or downstream pressure control. These valves feature a compact design and reduced shock and vibration during operation resulting in low particle generation.
VAT's Series 162 HV Pendulum Isolation Valve is an excellent choice for high vacuum isolation in harsh or corrosive processes such as sputtering and evaporation.
Butterfly Valve (Series 613)
Vacuum butterfly valves are used as vacuum control valves, isolation valves, or a combination of both using a circular plate that rotates around an internal axis to regulate flow.

If using an O-ring seal on the plate, a butterfly valve can shut off the flow entirely when closed. These valves can be actuated manually or pneumatically or use a stepper motor with a controller for precise control of gas flow.

VAT's Series 613 Butterfly Control Valve offers precise downstream pressure control and features an integrated controller with stepper motor. It is an excellent choice for harsh processes such as ALD and CVD.
Leak Valve (Series 590)
Vacuum leak valves are used as control valves to precisely limit the flow of very small gas flows. VAT's Series 590 All-Metal Leak Valve offers ultra-high and extremely high vacuum users enhanced process control and precise reproducibility of flow settings.

The all-metal build and gold-plated seal for protection against corrosive processes make it the perfect valve for gas dosing in applications such as chemical vapor deposition, spectroscopy, material science research, and more. Manual and pneumatically actuated leak valves achieve a variable flow rate ranging from 1 × 10-10 mbar ls-1 to 500 mbar ls-1.
Gate Valve (Series 091, 121, 140, and 480)
HV Gate Valve with Wedge Design (Series 091)
VAT's HV wedge gate valve is robust in harsh vacuum processes with many by-products in the gas flow where buildup or deposits could affect typical valve performance. Series 091 valves feature self-cleaning action due to the gate mechanism's wedge design.
Aluminum Gate Valve (Series 121)
VAT's Aluminum Gate Valve is a standard vacuum isolation gate valve with a split body for easy cleaning.
HV Gate Valve (Series 140)
VAT's High Vacuum Gate Valve is excellent for high vacuum isolation in high cycle processes featuring VATLOCK technology and robust stainless steel construction.
XHV All-Metal Gate Valve (Series 480)
VAT's

All-Metal Gate Valve

is ideal for UHV and XHV applications in harsh, high temperature, and corrosive environments. Series 48.1/48.2 valves feature all-metal stainless steel sealing surfaces.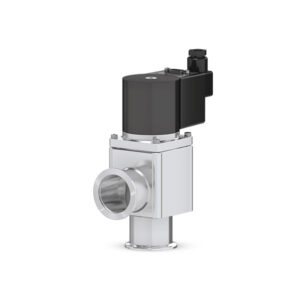 Electromagnetic HV Aluminum Angle Valve (Series 264)
Previously offered by ANCORP with manual or pneumatic actuation, the HV Aluminum Angle Valve is now available with electromagnetic actuation.

Series 26 valves are bellows sealed and designed for high vacuum applications in pumping systems, semiconductor technology, research systems, and more with resistance against high differential pressure and a long lifetime.
Options
If you are in need of a customized vacuum valve or a valve type that is not listed on our website, please contact us or request a quote by clicking the button below to speak with a sales engineer about your requirements.