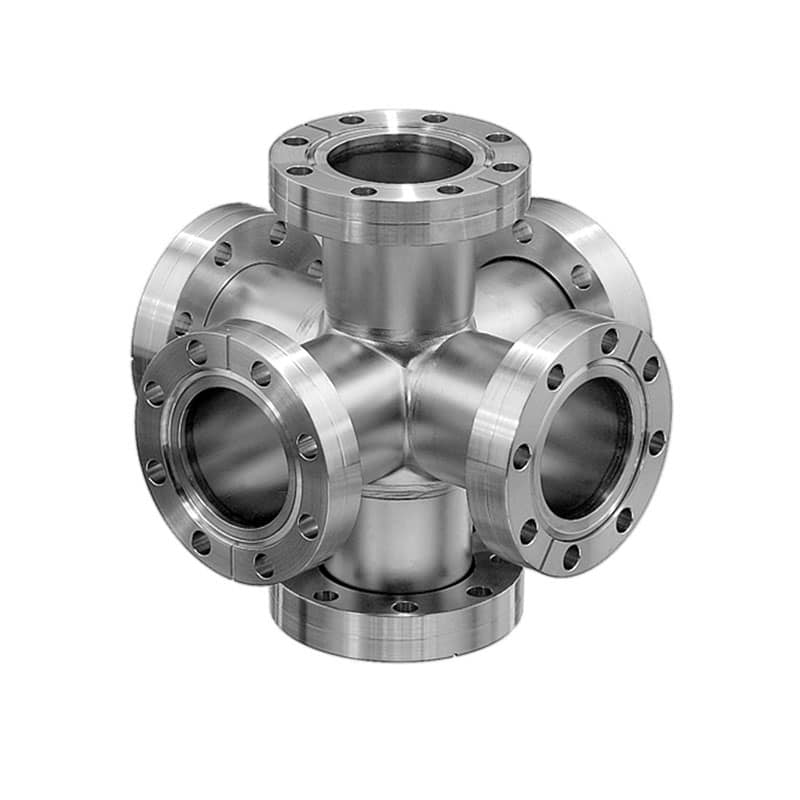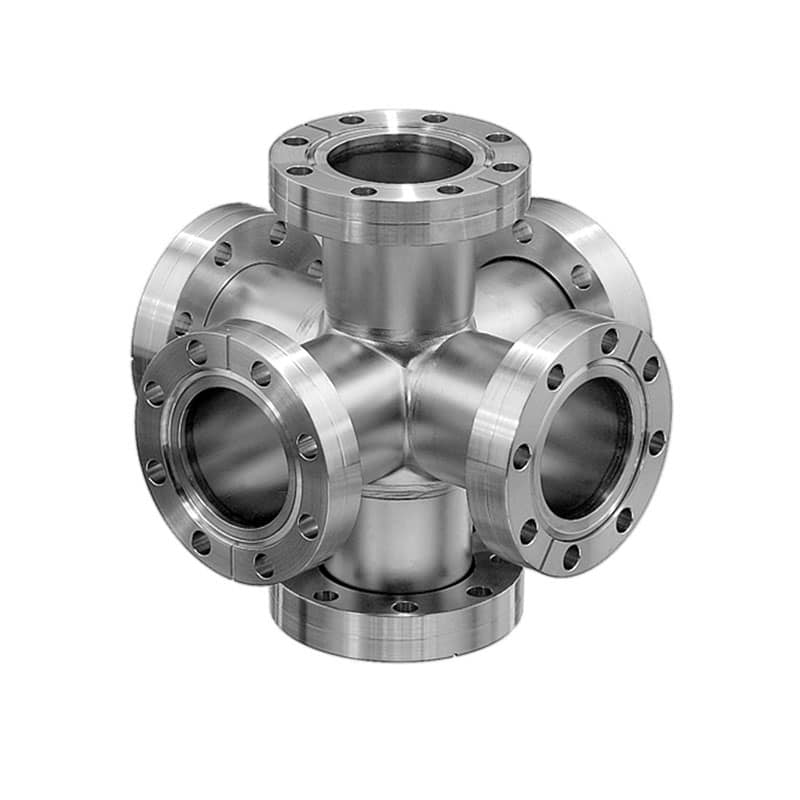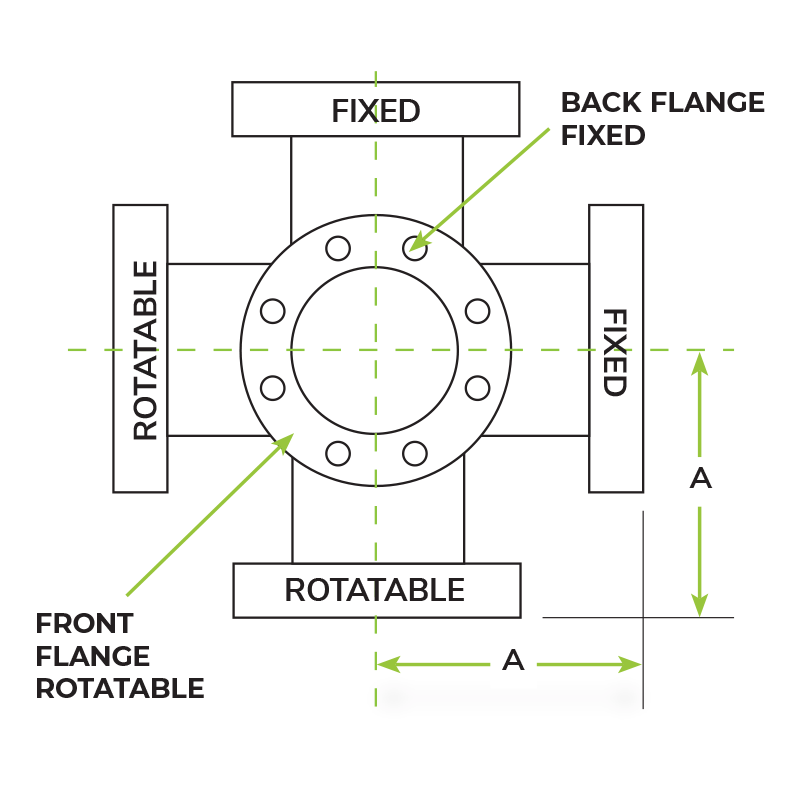 Product Notes:
Pulled ports for optimum vacuum performance
Vacuum rated: UHV (approx. 1×10-13 Torr)
Temperature range: -200°C up to 450°C
Leak rating < 1×10-9 std. cc/s helium
Options: Contact us for price and availability
Custom lengths
Tapped flanges
Custom flanges combinations
Alternative materials: 316LN (flange), 316L stainless steel, aluminum, etc.
*Dimensions are in inches unless otherwise specified
Part ID
Reference Number
A
Tube O.D.
Flange O.D.
Flange Type
3D CAD
Drawing
Unit Price
In Stock
Qty, Add To Cart
Part ID
5000577
Reference Number

CF1000-800-6X-7.50

A
7.5
Tube O.D.
8
Flange O.D.
10
Flange Type
CF1000
3D CAD
Login
Drawing
Login
Unit Price
Request a Quote
Contact
Part ID
5000578
Reference Number

CF1325-1000-6X-10.00

A
10
Tube O.D.
10
Flange O.D.
13.25
Flange Type
CF1325
3D CAD
Login
Drawing
Login
Unit Price
Request a Quote
Contact
Part ID
5000565
Reference Number

CF133-075-6X-1.50

A
1.5
Tube O.D.
0.75
Flange O.D.
1.33
Flange Type
CF133
3D CAD
Login
Drawing
Login
Unit Price
$375.00
2
Part ID
5000566
Reference Number

CF212-100-6X-2.05

A
2.05
Tube O.D.
1
Flange O.D.
2.12
Flange Type
CF212
3D CAD
Login
Drawing
Login
Unit Price
$435.00
Contact
Part ID
5000567
Reference Number

CF275-150-6X-2.46

A
2.46
Tube O.D.
1.5
Flange O.D.
2.75
Flange Type
CF275
3D CAD
Login
Drawing
Login
Unit Price
$475.00
Contact
Part ID
5000568
Reference Number

CF338-200-6X-3.22

A
3.23
Tube O.D.
2
Flange O.D.
3.38
Flange Type
CF338
3D CAD
Login
Drawing
Login
Unit Price
$895.00
Contact
Part ID
5000569
Reference Number

CF450-250-6X-3.38

A
3.38
Tube O.D.
2.5
Flange O.D.
4.5
Flange Type
CF450
3D CAD
Login
Drawing
Login
Unit Price
$1,250.00
Contact
Part ID
5000570
Reference Number

CF450-250-6X-4.12

A
4.13
Tube O.D.
2.5
Flange O.D.
4.5
Flange Type
CF450
3D CAD
Login
Drawing
Login
Unit Price
$1,275.00
Contact
Part ID
5000571
Reference Number

CF462-300-6X-3.63

A
3.63
Tube O.D.
3
Flange O.D.
4.62
Flange Type
CF462
3D CAD
Login
Drawing
Login
Unit Price
$1,470.00
Contact
Part ID
5000572
Reference Number

CF600-400-6X-4.32

A
4.32
Tube O.D.
4
Flange O.D.
6
Flange Type
CF600
3D CAD
Login
Drawing
Login
Unit Price
$1,825.00
Contact
Part ID
5000573
Reference Number

CF600-400-6X-5.31

A
5.31
Tube O.D.
4
Flange O.D.
6
Flange Type
CF600
3D CAD
Login
Drawing
Login
Unit Price
$1,725.00
Contact
Part ID
5000574
Reference Number

CF675-500-6X-4.71

A
4.71
Tube O.D.
5
Flange O.D.
6.75
Flange Type
CF675
3D CAD
Login
Drawing
Login
Unit Price
Request a Quote
Contact
Part ID
5000575
Reference Number

CF800-600-6X-5.50

A
5.5
Tube O.D.
6
Flange O.D.
8
Flange Type
CF800
3D CAD
Login
Drawing
Login
Unit Price
Request a Quote
Contact
Part ID
5000576
Reference Number

CF800-600-6X-6.56

A
6.56
Tube O.D.
6
Flange O.D.
8
Flange Type
CF800
3D CAD
Login
Drawing
Login
Unit Price
Request a Quote
Contact